Back to page
Reconstructive and plastic surgery
Profile : Professor Benoît Lengelé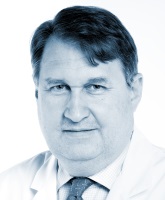 Head of Saint-Luc University Clinics Department of Plastic, Reconstructive and Aesthetic Surgery
Career path
Degree in Medicine from Louvain Catholic University (UCL), 1987
Specialist diploma in plastic, reconstructive and aesthetic surgery (UCL), 1994
Advanced training in reconstructive and maxillofacial microsurgery in Amiens (with Professor Devauchelle)
Head of Department since 2012
Clinical activities
Professor Lengelé works mainly in reconstructive surgery and microsurgery in the field of cancer. He is recognised as a pioneer of regenerative surgery and the bioengineering of composite tissue grafts (face and hand). In 2005, he jointly carried out the first face transplant. As a result of this world first, he received a number of awards both in Belgium and abroad.
Societies and scientific publications
Professor Lengelé has published over 115 articles in the major scientific journals. He is an active or honorary member of several scientific societies including the Belgian Royal Academy of Medicine, the National Academy of Surgery (Paris) and the Royal College of Surgeons (London).
Languages spoken
French - Dutch – English
Back to page
Reconstructive and plastic surgery