Back to page
Cardiac diseases
Profile : Professor Christophe Beauloye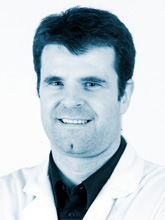 Head of the Cliniques universitaires Saint-Luc's Cardiology Department
Career path
Graduated in medicine from Université catholique de Louvain (UCL) in 1996
PHD in biomedical sciences from UCL in 2002
Certificate clinical cardiology from UCL in 2004
Certificate in Intensive Care from UCL in 2005
Interventional cardiology training at Cardiovascular Center Aalst in 2005-06
Head of the Cliniques universitaires Saint-Luc's Cardiology Department since 2016
Clinical activities
Professor Beauloye is specialised in coronary diseases. His fields of research and expertise include acute coronary syndroms, links between caogulation and platelets and control of the cardiac metabolism.
Societies and scientific publication
Professor Beauloye is (co)author of more than 60 articles published in national and international medical publications.
Winner of several scientific awards for his research in cardiology, he chairs the Belgian Interdisciplinary Working Group on Acute Cardiology (BIWAC) and is a member of the Belgian Society of Cardiology since 2015.
Languages spoken
French – English - Dutch
Back to page
Cardiac diseases