Back to page

Profile : Professor Frédéric Debiève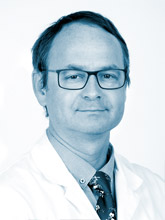 Head of the Cliniques universitaires Saint-Luc's "Maternal Intensive Care" (MIC) Unit
Career path
Graduated in Medicine from the Université catholique de Louvain (UCL) in 1995
Doctorate in Biomedical Sciences from UCL in 2001
Degree in Gynaecology and Obstetrics from UCL in 2002
Head of the Cliniques universitaires Saint-Luc's "MIC" Unit since 2002.
Clinical Activities
Professor Debiève is a gynaecologist and obstetrician. He specialises in caring for women with at-risk pregnancies.
Societies and scientific publications
Professor Debiève is a member of the Fetal and Neonatal Physiological Society, the Belgian French-speaking Medical Ultrasonography Association and the French Language Gynaecologist and Obstetrician Group of Belgium, serving as its President from 2012 to 2015. He has been appointed to the Board of the International Federation of Gynecology and Obstetrics (2012-2018). He has also published a number of articles in leading medical journals, including Pharmacological Research, Journal of Medical Sciences, Prenatal Diagnosis, etc.
Languages spoken
French – English – Dutch
Back to page