Back to page
Cardiac diseases
Profile : Professor Gebrine El Khoury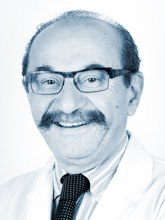 Head of the Cliniques universitaires Saint-Luc's Cardiovascular and Thoracic Surgery Department
Professor at Université Catholique de Louvain (UCL)
Career path
Graduated in medicine from Université Catholique de Louvain (UCL) in 1984
Trained in cardiac surgery at UCL (1984-1990)
Doctorate in cardiac surgery in 1992
Practised cardiac surgery at Broussais Hospital in Paris and at Toronto General Hospital in Canada in 1995
Clinical activities
Professor El Khoury specialises in cardiac valve surgery. His key areas of scientific interest include mitral and aortic valve valvuloplasty (of which he is one of the pioneers) and aortic valve replacement.
Societies and scientific publication
Professor El Khoury is the author and co-author of more than 120 articles published between 2009 and 2014 in journals such as the Journal of Thoracic and Cardiovascular Surgery, Annals of Thoracic Surgery and World Journal of Surgery, etc.
He is also a member of the Belgian, French and European cardiothoracic surgery societies, the Royal Belgian Surgery Society, the Belgian Vascular Surgeons' Association, the Belgian Society for Transplantation and the European Society for Cardiovascular Surgery.
Languages spoken
French – English – Arabic
Back to page
Cardiac diseases