Back to page
Reconstructive and plastic surgery
Profile : Professor Laurence Boon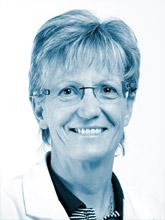 Coordinator of Saint-Luc University Clinics Vascular Malformation Centre
Career path
Degree in Medicine from Louvain Catholic University (UCL), 1989
Specialist diploma in plastic, reconstructive and aesthetic surgery (UCL), 1996
Coordinator of the Vascular Malformation Centre since 2012
Clinical activities
Professor Boon specialises in the study and multidisciplinary treatment of vascular anomalies. She is very active in translational research and conducts clinical studies for the development of new therapies for vascular anomalies.
Societies and scientific publications
Professor Boon has published numerous articles in prestigious medical journals. In 2013, she was awarded the Inbev-Baillet Latour Clinical Research Prize (jointly with Professor Miikka Vikkula). She is an active member of several scientific societies, including the Belgian Royal Academy of Medicine since 2015. She is chair of the International Society for the Study of Vascular Anomalies (ISSVA) and is co-Chair of the European Reference Network on vascular anomalies (VASCERN).
Languages spoken
French – English - Dutch
Back to page
Reconstructive and plastic surgery