Back to page
Eye Cancer
Profile : Professor Patrick De Potter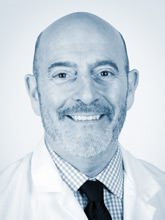 Head of the Cliniques universitaires Saint-Luc's Ophthalmology Department
Director of the Cliniques universitaires Saint-Luc' Ocular Oncology Unit
Professor at Université catholique de Louvain (UCL)
Career path
Graduated in Medicine from Université catholique de Louvain in 1984
Graduated in Ophthalmology from Université catholique de Louvain in 1988
Fellowship in Ocular Oncology at Jules Gonin Ophthalmic Hospital, Lausanne (1987-1989) and at Wills Eye Hospital, Thomas Jefferson University, Philadelphia, USA (1990-1993)
Assistant Professor of Ophthalmology, Thomas Jefferson University, Philadelphia (1993-1997)
Diploma of the European Board of Ophthalmology, 1998
Clinical activities
Professor De Potter specialises in the diagnosis and treatment of ocular cancer affecting the eyelids, conjunctiva, intraocular tissue (uvea, retina, optic nerve) and eye socket. His expertise in this field, unique in Belgium and internationally recognised, has led to the award of a number of scientific prizes, most notably an award of honour from the American Academy of Ophthalmology in 1996.
Societies and scientific publication
Professor De Potter has contributed to the writing of some fifteen books on ocular tumours. He has published more than 220 articles in specialist medical journals and has given hundreds of lectures around the world.
Professor De Potter is a member of several scientific societies (American Academy of Ophthalmology, International Society of Ocular Oncology, etc.) and is currently treasurer of the Academia Ophthalmologica Belgica.
Languages spoken
French – English – Dutch
Back to page
Eye Cancer