Back to page
Liver transplants for children
Profile : Professor Raymond Reding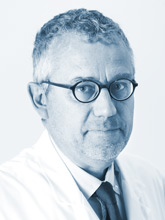 Head ofthe Cliniques universitaires Saint-Luc's Paediatric Surgery Unit and Transplant Unit
Professor at Université catholique de Louvain (UCL)
Career path
Graduated in medicine from UCL in 1983
Specialist diploma in general surgery, 1990
Doctorate in paediatric surgery, 1995
Specialist in paediatric surgery accredited by the European Union of Medical Specialists (UEMS), 1997
Clinical activities
Professor Reding heads up one of the most important living donor paediatric liver transplant programmes in Europe. His key scientific areas of interest include the immunological issues posed by liver transplantation (immune tolerance, non-cortisone immunosuppressive treatments, etc), hepatobiliary surgery in children, neonatal surgery, the history of medicine and ethical questions in paediatrics and organ transplantation.
Societies and scientific publication
Professor Reding has published more than 200 articles in prestigious scientific journals including The Lancet, Annals of Surgery and the American Journal of Transplantation. 
He has been a member of the Belgian Royal Academy of Medicine since 2009.
Languages spoken
French – Dutch – English – basic knowledge of German and Russian
Back to page
Liver transplants for children