Back to page
Drug-resistant epilepsy
Profile : Professor Susana Ferrao Santos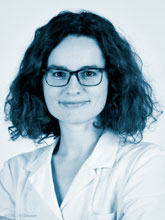 Epileptologist
Head of the Refractory Epilepsy Centre at Cliniques universitaires Saint-Luc
Career
Graduated in medicine at Louvain Catholic University (UCL) in 2005
Graduated in neurology at UCL in 2012
Graduated in epileptology at the University of Nancy (France) in 2013
Internship in epileptology at UZ Ghent (Belgium) 2013-2014 and at Lyon Neurological Hospital (France) 2012-2013
Head of the Refractory Epilepsy Centre at Cliniques universitaires Saint-Luc since 2015
Clinical activities
Dr Ferrao Santos is a neurologist and epileptologist. She coordinates the activities of the Cliniques universitaires Saint-Luc Refractory Epilepsy Centre.
Societies and scientific journals
Dr Ferrao Santos is a member of the Belgian French-speaking League against Epilepsy and the Belgian Neurology Society. She has published a number of articles in specialist medical journals, including the Journal of Neurosciences, Neurobiology of Aging, etc.
Languages spoken
French – English – Dutch – Portuguese – Spanish
Back to page
Drug-resistant epilepsy