Back to page
Infertility treatments
Profile : Professor Christine Wyns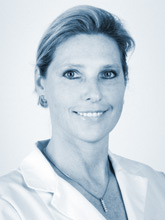 Head of the Cliniques universitaires Saint-Luc's Gynaecology and Andrology Department
Medical director of the Reproductive Tissue and Cell Bank
Professor at Université catholique de Louvain (UCL)
Career path
Graduated in medicine from UCL in 1993
Specialist diploma in gynaecology and obstetrics from UCL in 1998
Diploma in applied andrology, Limoges 2005
Diploma and doctorate in biomedical sciences, UCL 2008
Clinical activities
Professor Wyns specialises in female and male infertility problems. Her key areas of scientific interest include fertility preservation (cryopreservation).
Societies and scientific publication
Professor Wyns has published some fifty articles in medical journals and books. She is an active member of several scientific societies. She is:
President of the College of Doctors of Reproductive Medicine;
Member of the Steering Committee of European IVF Monitoring;
Member of the board of directors of the International Society for In Vitro Fertilization;
Member of the European Society of Gynaecology;
Member of the board of directors of the Belgian Society of Reproductive Medicine
She is also an expert in andrology for the Public Health Institute.
Languages spoken
French – English – Dutch
Back to page
Infertility treatments