Back to page
Living donor kidney transplant
Profile : Professor Michel Mourad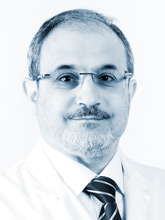 Head of the Cliniques universitaires Saint-Luc's Renal and Pancreatic Transplantation Unit
Professor at Université Catholique de Louvain (UCL)
Career path
Graduated in medicine from UCL in 1987
Specialist diploma in proctology in Paris in 1993
Diploma in laparoscopic surgery in Strasbourg in 1995
Specialist diploma in general surgery in 1997
Doctorate in renal transplantation in 2002
Clinical activities
Professor Mourad specialises in renal and pancreatic transplantation and in endocrine gland surgery. His key areas of scientific interest include immunosuppressive treatments, biological markers in renal transplantation, minimally invasive endocrine surgery techniques (laparoscopy) and the use of hypnosis in surgery.
Societies and scientific publication
Between 2000 and 2014, Professor Mourad published around forty articles in international scientific journals including Transplantation, American Journal of Transplantation, American Journal of Surgery, Therapeutic Drug Monitoring, Pharmacogenetics and Pharmacogenomics.
Languages spoken
French – English – Arabic
Back to page
Living donor kidney transplant